Band
Renard, Ben and Will Bergstrom performing for Chautauqua on June 2, 2010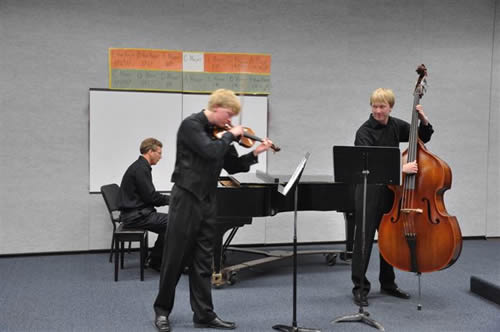 2009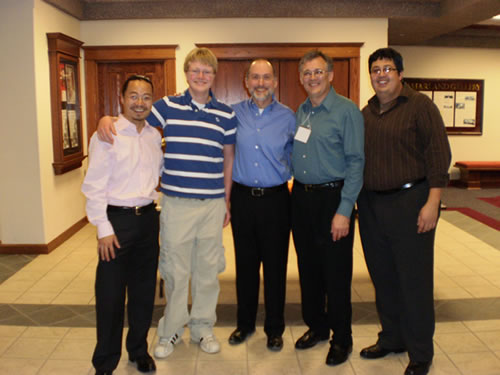 Ben and His Teachers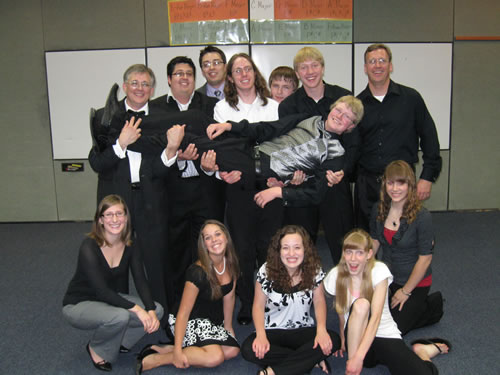 Ben and His Buddies
Uncle Sam's Good Time All American Family Fun Band!
aka Bergstrom Family Trio
2008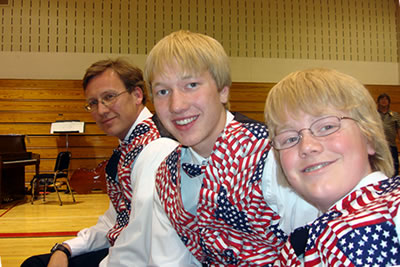 The Bergstrom Family Trio has been playing together for about three years.
Benjamin Bergstrom, the youngest, started violin lessons around his 5th birthday. He loved playing it immediately and his teacher, Richard Neukom, made it fun for him. Ben is 14 years old and will be in the 9th grade at Devils Lake High School in the fall. He plays in the school orchestra and the Community Orchestra. He likes down hill skiing, basketball, and SCUBA diving. Ben studies with Mr. Rick Neukom and has studied with Dr. Chung Park at UND.
Will Bergstrom began piano lessons at the age of two. When he was four he took lessons from his great grandmother,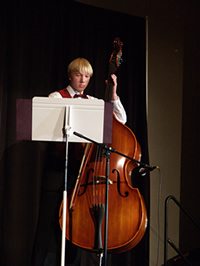 Alma Studness and now studies with Lynda Pearson. He began playing the bass in the 6th grade taking lessons from Richard Neukom. Will is going into the 12th grade at Devils Lake High School. He too plays in the school orchestra and the Community Orchestra. Will is involved in Student Council, Student Congress, Speech, NHS, track,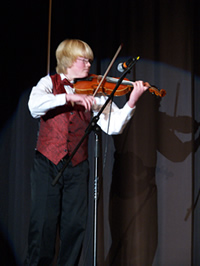 and is a life guard. Will wrote a children's Christmas book, The Magic Telescope. Look for it on Amazon.com.
Renard (dad) started piano lessons at the age four with his grandmother, Alma Studness. Renard graduated from the Air Force Academy in 1985 and flew F-16's for the Air Force and then for the North Dakota Air National Guard in Fargo. Renard is currently a car dealer in Devils Lake where he sells Toyota, Ford and General Motor products. Lake Chevrolet has been in the Bergstrom family since 1923. Renard loves accompanying his boys and attending their activities. He and his wife Candace have been married for 20 years.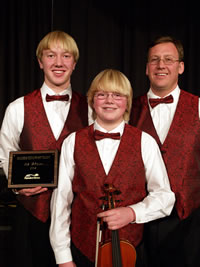 They took first place at the North Dakota Farmer's Union "Got Talent" competition in December of 2007. They play classical, lively, & some fiddle pieces.
For more information contact Candace at: candace@lakechevy.com